Gorges du Gardon
Biosphere Reserve
Coordinating structure / Administrative authority
Syndicat Mixte des Gorges du Gardon (SMGG)
Contact information
Céline BOULMIER (biosphere reserve coordinator)
Main features and specificities
A Mediterranean river with irregular precipitation.
Last tributary of the Rhone river, the source of the river is in Lozère.
The Gardon is an assemblage of many smaller Gardon rivers that are named after the cities they cross, such as Alès, Anduze, Mialet… Together, they form the gorges du Gardon: a bigger karst system that has still not revealed all its secrets.
Cultural and social particularities linked to rivers
An industrial and mining past.
Gold panning.
Swimming area all along the river.
Gravel operations.
Main problems and concerns
water pollution (eutrophication, toxic substances)
morphological deterioration of river beds
biodiversity loss
conflicts between water and land use
invasive species
loss of river-related cultural heritage (knowledge, identity…)
flooding risks and water shortages, due to extreme variations
degradation of wetlands and environments
Main know-how, skills and specialties
Flood control.
Establishing dialogue and concerted governance.
Karst scientific studies.
Current scientific research topics and actions
Hydromorphology of watercourses
Pollution control
Fighting eutrophication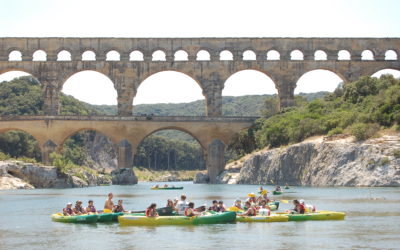 Within the Gorges du Gardon BR, there are 8 more or less developed canoeing sites, that were built without authorization, despite the designated area and water legislation. More than 1,000 canoes belonging to 5 professionals paddle in the gorges. Most of the trips are...
read more