Middle Volga Integrated
Biosphere Reserve
Coordinating structure / Administrative authority
Zhiguli Nature Reserve
Samarskaya Luka National Park
Institute of Ecology of the Volga River of RAS
Contact information
Institute of Ecology of the Volga River of RAS
Address: 445003, Russia, Samara region, Togliatti, Komzin st., 10.
Main features and specificities
Tectonic uplift in the conditions of the Russian Plain.
Outcrops of ancient Paleozoic sedimentary rocks.
An ancient relict relief, formed mainly in the pre-Pleistocene time.
Refugium of ancient preglacial and postglacial natural complexes, including relict plant and animal species.
High biological diversity of natural-territorial complexes.
Cultural and social particularities linked to rivers
The main river of the biosphere reserve is the Volga, which borders it for more than 220 km.
The Usa (a tributary of the Volga) is another important river which flows through the northwest of the BR for a length of 70 km and forms a vast catchment area of about 2,000 km².
The largest Russian urban agglomeration of Samara-Togliatti was formed around the BR.
The richest historical past of the BR, its present and its future are connected with the Volga River and its influx.
Main problems and concerns
High eutrophication, industrial and domestic pollution of the Volga and the lower reaches of the Usa River (Usinsky Bay)
Loss of biodiversity of valuable species (sturgeon), low-floodplain meadows, floodplain-valley sedgeveral forests and willow shrubs
Hydropower impact, leading to an unnaturally-oscillating level regime, dramatically changing the
hydrological regime of the Volga and its inflow
Biological invasions of a number of species of hydrobionts and other groups of terrestrial organisms
The disappearance of a number of elements of the river's natural and cultural heritage (e.g. the spring drift, steamship and sailing civilian and fishing vessels)
Main know-how, skills and specialties
Monitoring and research of the geographic environment and biological diversity by leading specialists from scientific centers of Russia (Moscow, St. Petersburg, Togliatti, Samara).
Regular scientific conferences and seminars, round tables; thematic exhibitions for schoolchildren, students and their teachers, as well as for the general population.
Publication of the scientific journal « Samarskaya Luka: Problems of Regional and Global Ecology » (since 1991).
Current scientific research topics and actions
Ecological certification of reservoirs and watercourses
Flora and rare species (relics and endemics)
Encyclopedia of persons studying (studying) the biosphere reserve's nature
Inventory of natural attractions of the Samarskaya Luka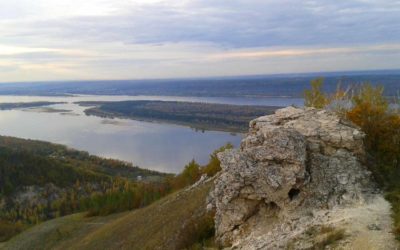 Samarskaya Luka is the ark of conservation of nature of the Middle Volga. The unique Middle Volga bend has been bestowed on us by nature. Here, in a small area, the centuries-old history of the Russian state and the most valuable, unique nature are tangled together....
lire plus