Mura Drava Danube
Biosphere Reserve
Administrative authorities of the existing biosphere reserves
Ministry of Environment and Energy (Croatia) and Danube-Drava National Park Directorate (Hungary) for the Mura-Drava-Danube Transboundary Biosphere Reserve (HR-HU) (designation in 2012)
Institute for Nature Conservation of Vojvodina Province for Bačko Podunavlje Biosphere Reserve (designation in 2017)
Institute of the Republic of Slovenia for nature conservation for the Mura River Biosphere Reserve (designation in 2018)
Planned administrative authorities
Regional Management South-East Styria for the planned Biosphere Reserve Unteres Murtal (designation expected in 2019)
Main features and specificities
Unique free-flowing and dynamic river corridor "Amazon of Europe".
Some rare species still live in the steep banks, gravel islands, oxbow lakes or floodplain forests.
Educational infrastructure in visitor centres in protected areas.
A joint 5-country Biosphere Reserve is planned.
Cultural and social particularities linked to rivers
Flood protection.
Drinking water.
Freshwater recreation activities.
Water mills still in use.
Variety of fish species.
Main problems and concerns
water pollution (eutrophication, toxic substances)
morphological deterioration of river beds
biodiversity loss
loss of flooding areas
hydropower impacts
conflicts between water and land use
invasive species
disappearance of river-related cultural heritages (knowledge, identity…)
threat of establishing new hydropower plants
Main know-how, skills and specialties
Transboundary Biosphere Reserve and transboundary cooperation.
Free-flowing river without barriers for e.g. fish migration.
A chain of protected areas via 5 countries.
Cross-sectorial cooperation.
Restoration of river branches, oxbows and main river for nature conservation and flood protection.
Current scientific research topics and actions
Species monitoring: yearly bird monitoring of the river corridor
Research on IUCN red list species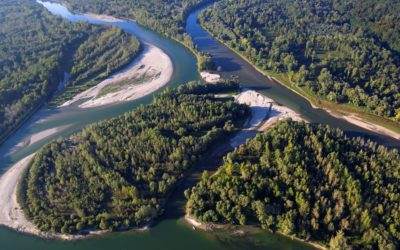 The five-country Transboundary Biosphere Reserve Mura-Drava-Danube connects protected areas from the Mura along the Austrian-Slovenian border via the Drava through Croatia and Hungary to the Danube in Serbia. Along this chain of protected areas, various projects...
read more