Prioksko-Terrasnyi
Biosphere Reserve
Coordinating structure / Administrative authority
The Federal State Budgetary Institution "Prioksko-Terrasnyi State Nature Biosphere Zapovednik named after M.A. Zabolotskii" of the Ministry of Natural Resources and Environment of the Russian Federation
(Short title FSBI " Prioksko-Terrasnyi State Zapovednik")
Contact information
Svetlana Rodionova, managing director
Address: 142200 Danki, Serpukhov District, Moscow Region, Russia
Main features and specificities
1. Prioksko-Terrasnyi Nature Reserve (the core area of the BR) is located on the left bank of the Oka River which is the main watercourse of the Biosphere Reserve (BR). The Oka River is the biggest tributary of the great Russian river Volga. The relief of the BR is composed of an erosion plain in its northern part and ancient Oka River terraces – in the southern part.
2. High biodiversity: the core area and the buffer zone encompass pine and oak nemoral forests, steppe meadows as well as lowland and transition bogs with boreal flora.
3. The territory of the BR is notable for the presence of about 100 steppe species forming the "Oka flora" – intrazonal relict plant formations of steppe meadows.
4. The Bison Breeding centre operates in the BR since 1945 with a goal to safeguard and reproduce the European bison population. It receives more than 60,000 visitors annually.
Cultural and social particularities linked to rivers
The Oka River valley is anciently populated and has archaeological value.
In the west the BR borders Serpukhov – a 14 ct. Russian city, a modern industrial centre.
The science centre of Pushino situated within the transition area on the right bank of the Oka comprises institutes which conduct research in the fields of biology, soil science, physics and chemistry.
The territory of the BR has high recreational value due to its variety of water bodies (rivers, streams, lakes and springs). Recreational fishing and other forms of nature-oriented tourism are widely practised.
Main problems and concerns
Water pollution (eutrophication, toxic substances)
Decrease in the area and the biodiversity of bottomland steppe meadows as a result of plowing and the expanse of greenhouse agriculture
Loss of flooding areas
Conflicts between water and land use
Invasive species
Climate change-caused decrease in water content of rivers and shallowing of lakes
Main know-how, skills and specialties
Breeding and studying the and releasing into the wild the European bison
Baseline monitoring of the level of pollutants (sulphur and nitrogen compounds, heavy metals, pesticides etc.) in the environment.
Studying climate change and its impacts on the environment
Current scientific research topics and actions
Safeguarding and restoration of ecosystems, rare and endangered species
Long-term integral ecological research and monitoring
Conservation and research of unique "Oka flora" steppe meadows
Open-access publishing of up-to-date biodiversity and phenology data in the Global Biodiversity Information Facility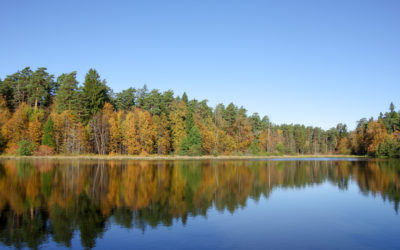 The Prioksko-Terrasnyi Biosphere Reserve (BR) is situated in the South-West of Moscow region on the terraced slopes of the left bank of the Oka River Valley. The core area of the biosphere reserve is the Prioksko-Terrasnyi State Nature Reserve. Combination of a...
read more