Terres de l'Ebre
Biosphere Reserve
Coordinating structure / Administrative authority
The Terres de l'Ebre Consortium Environmental Policies (COPATE)
Contact information
Josep ARAGONÉS (biosphere reserve coordinator)
Main features and specificities
The Ebro River is the main icon of the Biosphere Reserve and comprises many aquatic ecosystems, whose conservation depends on the integral management of the basin. The Ebro River is the largest river in Spain.
The Ebro Delta, included in the Ramsar Convention, is one of the best-known and greenest wetlands in the Western Mediterranean, where more than 360 species of birds and 50 species of fish have been counted. The most important are the Greater Flamingos, Adouin's gull, Spanish toothcarp, Ebro barbell…Moreover, the final part of the Ebro crosses different ecosystems and natural habitats, ranging from mountain altitudes of 1,500 metres to sea level with sandy expanses and wetlands in the delta plains, passing through tectonic zones, and the Ebro valley and alluvial deposits.
Cultural and social particularities linked to rivers
The river and its wetlands confer a great variety of landscapes and exceptional richness on the area, but also give a strong sense of belonging and personality to the local population, so much so that in the 2000's, a powerful social movement in defence of the Ebro emerged as a reaction in response to the political proposal of Ebro water capture.
The rich resources of the river have transformed the area into a leading agricultural sector in an extended agrarian matrix (composed by rice paddies, citrus and olive groves, vineyards, almond trees…). These agricultural activities, combined with fishing, shell fishing, aquaculture and tourism, are the main economic activities in the area.
Main problems and concerns
hydropower impacts: the lack of sediments is causing the regression of the Ebro Delta
delta dynamics such as subsidence plus the rise in sea level (climate change)
invasive species
pollution of water (eutrophication, toxic substances)
salinization of the final part of the river
biodiversity loss
loss of flooding areas
conflicts between water and land use
Main know-how, skills and specialties
Branding: The Terres de l'Ebre Brand
Governance and participatory process
Adaptation and mitigation climate change effects
Current scientific research topics and actions
Green economy and biofuels
Energy Efficiency and Smart grids
Sediment dynami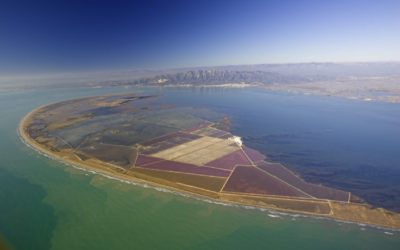 One major concern of TEBR is the effects of climate change. For this reason, TEBR has been participating in a LIFE called CLINOMICS with other territories of Catalonia since 2016. This project tries to improve the resilience of local economies, particularly in the...
lire plus