Volga Akhtuba Floodplain
Biosphere Reserve
Coordinating structure / Administrative authority
State Budget Institution of the Volgograd Oblast «Nature Park «Volga-Akhtuba floodplain» (VAF)
Contact information
Natalya LOPANTSEVA (Director of State Budget Institution of the Volgograd Oblast
«Nature Park «Volga-Akhtuba floodplain», biosphere Reserve coordinator)
Main features and specificities
The unique natural hydraulic streamflow regime has been preserved in the Volga valley.
Regulates the environmental component and local climate in the south of Russia.
Includes a variety of landscapes and numerous interconnecting tributaries, channels, eriks, and lakes (about 3,000) among the North Caspian semi-desert.
Includes internationally important wetlands (Convention on the Wetlands of International Importance Especially as Waterfowl Habitat (Ramsar, 2 February, 1971) and internationally important key avifaunal area (RU 125 « Akhtubinsk wetland »).
Hosts about 1,200 plant species, more than 1,400 invertebrate species, about 322 animal species, including 62 animal species and 19 plant species and other organisms listed in the Red Books of various ranks.
Cultural and social particularities linked to rivers
Historical and cultural heritage is represented by 168 objects, including: 128 archaeology monuments, 39 historic monuments and 1 architectural ensemble.
Played an important role in the victory of the USSR during the Great Patriotic War (Battle of Stalingrad).
Currently, 97 rural settlements are involved in the joint Biosphere Reserve management.
« Green lungs » for the large industrial urban agglomeration and an attractive place for recreation and rehabilitation.
Main problems and concerns
hydropower impacts
loss of flooding areas
conflicts between water and land use
invasive species
Main know-how, skills and specialties
Restoration of wetlands
A new approach to the assessment of biodiversity of VAF based on biological indicators for managing wetlands in the reserve
Replenishment of the gene pool of Phasianus colchicus Linnaeus to combat invasive species
Current scientific research topics and actions
Assessment of the state of natural and naturalanthropogenic complexes and objects using biological indicators
Monitoring plants and animals, including those listed in the Red Books
Destruction of invasive species
Preservation and restoration of oak forests
Hydrological monitoring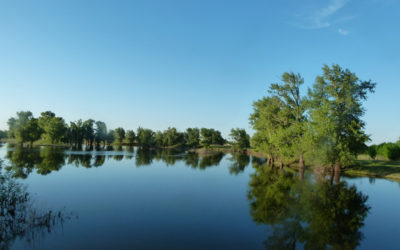 The Volga-Akhtuba floodplain is the world's largest river valley. Its potential is actively used by humans and the valley suffers from anthropogenic pressure. Restoration of degraded wetlands on the territory of the Biosphere Reserve has been underway since 2008 as...
lire plus