Julian alps
Biosphere Reserve
Coordinating structure / Administrative authority
Javni zavod Triglavski narodni park (JZTNP) – Triglav National Park Public Institute.
Contact information
Davorin KOREN (Biosphere Reserve coordinator)
Main features and specificities
One of the most watered areas in Slovenia and Europe.
Important drinking water "reservoir" (huge quantity of quality underground water).
Karst springs, waterfalls, creeks, rivers, lakes, wetlands and southernmost raised bogs in Europe. Alpine glacier lakes – on a limestone base!
The source of two important European rivers, the Sava and the Soča. The dividing line between the Mediterranean and Black Sea watersheds runs through the heart of the Julian Alps.
Cultural and social particularities linked to rivers
Important sites for many recreational activities (water sports, fishing, hiking).
Small hydropower plants.
Water-related cultural heritages.
Main problems and concerns
water pollution (eutrophication, toxic substances)
morphological deterioration of river beds
biodiversity loss
loss of flooding areas
hydropower impacts
conflicts between water and land use
invasive species
disappearing of river-related cultural heritages (knowledge, identity…)
Main know-how, skills and specialties
Management of visitors in protected areas (e.g. water sports are limited to designated locations…)
Protected area management
Current scientific research topics and actions
Eradication of non-native fish from high mountain lakes
Water quality monitoring
Waste water treatment in mountain huts
Impacts of recreation on nature
Prevention of dispersal of non-native invasive species (e.g. Dreissena polymorpha, Fallopia japonica)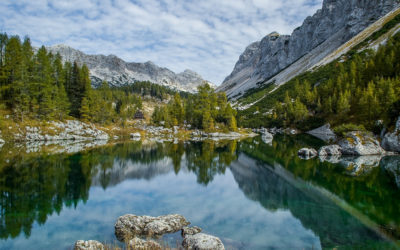 A large part of the Julian Alps Biosphere Reserve extends over the only Slovenian national park (Triglav National Park is the core zone). Strict nature protection regulations contribute positively to the general state of water. Due to the abundance of high-quality...
lire plus