Coordinating structure / Administrative authority
Etablissement Public Territorial du bassin de la Dordogne (EPIDOR)
Contact information
Raphaël MICHAU (biosphere reserve coordinator)
Main features and specificities
The longest estuary in Europe.
The middle part of the Dordogne basin is a large karst area, one of the longest underground networks in the world.
The last refuge of the eight major diadromous migrating fish in Western Europe (Atlantic salmon, European sturgeon, eel, shad species, lamprey species).
The Upper Dordogne Basin hosts one of France's largest dam chains.
Several areas and sites recognised on the List of UNESCO World Heritage Sites (Prehistoric sites of the Vézère Valley, Juridiction of Saint-Emilion…).
Cultural and social particularities linked to rivers
One of the main European sites for freshwater recreational activities.
The Dordogne was a historically important water shipping way.
Professional fishing.
Main problems and concerns
water pollution (eutrophication, toxic substances)
morphological deterioration of river beds
biodiversity loss
loss of flooding areas
hydropower impacts
conflicts between water and land use
invasive species
disappearing of river-related cultural heritages (knowledge, identity…)
Main know-how, skills and specialties
Dialogue and Governance at a watershed scale
Migratory fish
Integration of hydropower activity
River restoration
Current scientific research topics and actions
Climate change
Hydromorphology of water courses
"Territorial knowledge"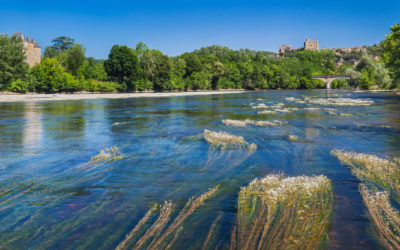 Context The Dordogne Watershed is facing many changes, most of them accelerated by climate change. The watershed is oriented from west (moderate coastal climate) to east (mountain climate), it has to face a 0,3°C temperature raise every 10 years since 1980. By 2050,...
lire plus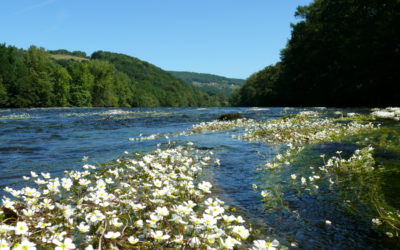 The Dordogne basin Biosphere Reserve is characterised by major dam chains on the Dordogne River and its tributaries. To reduce the impact of the numerous dams on aquatic habitats and water uses, a non-profit organisation was founded in 2013 by EDF and EPIDOR (IBD or...
lire plus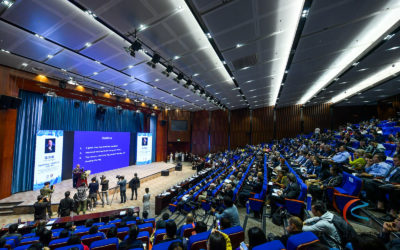 In October 2018, a number of biosphere reserves have been invited by UNESCO to participate in the Wuhan Forum in China, dedicated to the management and protection of the world's major rivers; the Nile, the Amazon, the Mississippi, the Danube, the Niger, the Rio...
lire plus