The Dordogne basin Biosphere Reserve is characterised by major dam chains on the Dordogne River and its tributaries. To reduce the impact of the numerous dams on aquatic habitats and water uses, a non-profit organisation was founded in 2013 by EDF and EPIDOR (IBD or Dordogne Biosphere Initiative). IBD is active throughout the biosphere reserve, providing support for studies, ecological monitoring, research efforts and renaturation operations and land acquisition along the river.
Work to rehabilitate a former gravel pit has been undertaken, over 20 years after mining operations ceased. Renaturation of this 16-hectare alluvial area is one of the flagship projects of the IBD programme.
The assessment completed beforehand showed that the extraction of gravel over several decades caused long- term disruption to the river, in particular by deepening the riverbed. Natural habitats experienced degradation processes, in particular with vegetation closing in.
After the machinery and equipment had been removed, the site's topography was completely redesigned so it could once again express its biological potential. This work included the creation of a two-hectare oxbow lake. To limit the number of invasive species taking hold, the land was also replanted.
The renaturation project was made possible through the acquisition of the former gravel pit in Veyrignac by the Communauté de Communes du Pays de Fénélon, with the help of IBD and the water agency.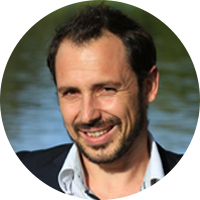 Raphaël MICHAU
Dordogne basin biosphere reserve – FRANCE
Raphaël is the coordinator of the Dordogne basin biosphere reserve and works for EPIDOR.